"As someone who moved to Jefferson City at the start of her career, I knew I wanted to find a way to connect with the community. Young Professionals has allowed me to do that and so much more. Whether it be through service events or social events, YP has opened so many doors that otherwise would not have been available to me. Getting to learn from and work alongside so many talented young professionals has already made such a positive impact on my career, and I can't wait to see this organization grow and continue to give back in the years to come."
-Rebecca Supergan - CED Jefferson City, Profit Center Manager
"I originally joined Young Professionals to make friends (I had recently moved back home to Jefferson City) but ended up gaining so much more including meeting someone who was integral in helping me get my dream job! I've also really appreciated all of the professional development skills the monthly luncheon speakers have helped me fine tune from how to network to conflict resolution and just about everything in between. I'm so grateful for the connections I've made in YP from expanding my personal social and professional networks to being introduced to the wide array of things happening in our community! Thank you YP!"
-Missy Dunn - Huber & Associates, Marketing Manager
"I joined YP once I moved back to Jefferson City 3 years ago. Some of my High School friends were still living in Jefferson City but I wanted to meet more people and YP opened the doors for me. The first year I was part of YP, I volunteered to do anything YP wanted help with just to meet more people. I kept saying "YES" to everything and that lead to more friendships and trust within the YP board which then lead to becoming the Professional Development Chair for 2017-2018. All of my friendships and connections I have made through YP has helped me grow personally and professionally. YP is now a big part of my life and I am happy to be part of the organization."
Chris Buschjost – Hawthorn Bank, Commercial Loan Officer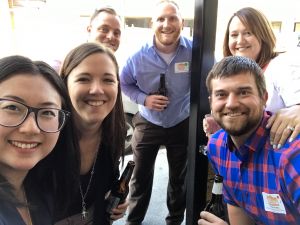 "Joining YP was a great decision for me as a local business owner and a young professional in the area. I jumped in and have truly enjoyed getting to know other members. I try to utilize my membership as much as possible and it serves me well. It's well worth the investment in your career. "
-Missy Creed - Dogwood Social, Owner